Find hard to find items on eBay!
PARAMOUNT GEARING UP FOR MARVEL'S "DEATHLOK"

Director Lee "Die Another Day" Tamahori is being touted as frontrunner to helm Paramount Pictures' live-action adaptation of Marvel Comics' "DEATHLOK" (The Demolisher) with a screenplay by Stu Zickerman/Raven Mentzner for Marvel Studios and Crystal Sky Productions.

Premise of the script centers on " ... a suburban family man, unwittingly made a test subject for technology research that slowly turns him into a living computer."

According to Marvel Studios topper Avi Arad :

"We are all becoming more dependent on technology. One of these days it's going to be inside of us.

"For example, we won't need a cell phone; it'll be built into our ear. Now is that a cool thing, or will it destroy us as human beings?

"'Deathlok' explores what those consequences may be."

Premise of the original comic book story featured Army Colonel 'Luther Manning' who becomes critically injured. His superior Major 'Simon Ryker' salvages his body for use in 'Project: Alpha-Mech', a covert operation whose purpose is to create cyborg super-soldiers.

Manning's brain, nervous system and still living tissue are transplanted into a synthetic body during a clandestine operation performed by Major Ryker's brother 'Harlan Ryker' (code-named 'Hellinger').

Manning awakens from his weeks-long operation in a body partially his own, with a dominating mini-computer called 'Puter' occupying a portion of his cranium.

Manning is given the code-name 'Deathlok' and is at first an unwilling agent of Ryker, but eventually breaks free and becomes an 'independent' agent.
Marvel Limited: Deathlok Mini Bust

Rich Buckler created 'Deathlok', Marvel's pre-Terminator robo-hero, in August 1974.

Critically wounded during war games set in the near future, 'Colonel Luther Manning' acquired cybernetic enhancements to 75 % of his damaged body as part of covert operation 'Project: Alpha-Mech'.

As 'Deathlok', an implanted computer coerced the embittered Manning into obedience as a super-soldier equipped with augmented senses, body armor, and a lethal laser pistol fuled by the cyborg's internal power supply.

Deathlok existed in a divergent reality, but entered the Marvel Universe via a time machine that was deactivated by the 'Fixer'. Agents of the 'Roxxon Corporation' cloned Manning's body and produced a new Deathlok, a silent, rampaging engine of destruction that wreaked havoc in Las Vegas, battling 'SHIELD''s AirCav unit.

The original Deathlok has returned to his alternate timeline, and the Marvel Universe fears the resurrection of his annihilative namesake.

The Deathlok Mini Bust stands approximately 5 1/2 inches tall, is fully painted and ready to display outside of the box. Limited to a production run of 4000 pieces.

---
VAMPIRE SCRIBE SINKS HIS TEETH INTO "BLADE III"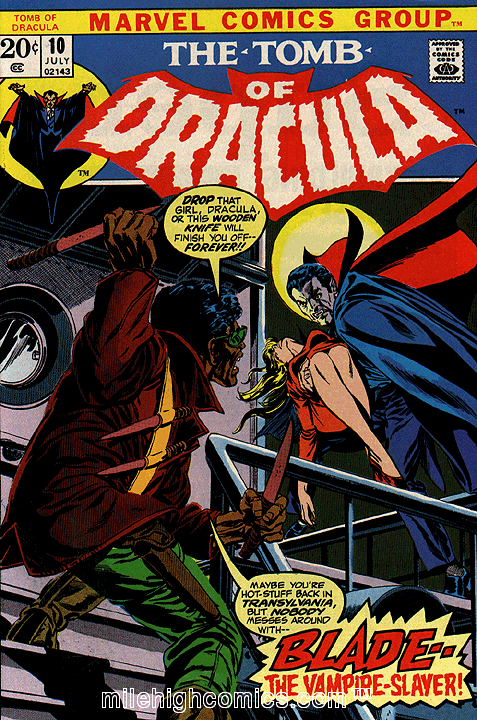 "BLADE" screenwriter David Goyer will direct "BLADE III" for New Line. The studio expects to begin production in Vancouver later this summer.

Marvel Comics' "BLADE" centers on a 'heroic vampire' born of human/vampire parents who is able to survive daylight.

In the third installment 'Blade' must reverse an apocalyptic event that threatens to bring Earth under 'vampire control'.

The first 2 "BLADE" features have earned $227 million worldwide.
SINGLETON IS FRONT-RUNNER TO UNLOCK MARVEL'S "LUKE CAGE"

Director John Singleton is the front-runner to direct Marvel's "LUKE CAGE" for Columbia Pictures. Columbia is currently fast-tracking the property with screenwriter Ben "The Big Hit" Ramsey penning the script, based on the Marvel Comics' character.

Producers of the super-hero actioner will be Neal Moritz for studio-based Original Films and Marvel Studios Avi Arad.

"LUKE CAGE" is about a former gang member framed for a crime. In prison, he volunteers for a medical experiment that gives him super-strength and bulletproof skin.

Director Singleton has been talking up directing "LUKE CAGE" as far back as the press rounds for Columbia's 'Baby Boy'.

*** FROM JUNE 2001 ***

'Comics2Film' followed up on recent rumors that filmmaker John Singleton is attached to the big screen version of Marvel's "Luke Cage".

A few weeks back, the 'Sneak Peek' website ran an interview with Singleton, whose new movie "Baby Boy" is in theaters now. Singleton told that site that he definitely will direct the movie adaptation of Marvel comic book hero Luke Cage.

We checked in with Kevin Feige, Senior Vice President Marvel Studios. Feige couldn't talk about the details of the project except to say, "Singleton is a big fan of Luke Cage, and we're a big fan of his."
FULL METAL JACKET : MARVEL'S "IRON MAN" FOR 2005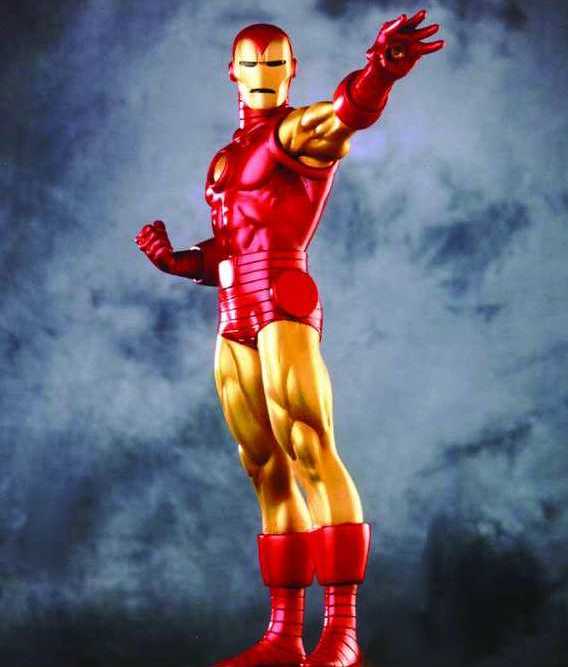 Marvel's "IRON MAN" is being developed as a feature for New Line Cinema, producers of Marvel's "Blade" movies. The upcoming project is being touted as a tentpole for the studio's 2005 slate, with a screenplay in development from Alfred Gough/Miles Millar, creators of WB's "Smallville".

Premise of Marvel's first 1962 "Iron Man" comic book, centered on millionaire playboy 'Tony Stark', weapons manufacturer and inventor/owner of 'Stark Enterprises'.

While testing out experimental 'transistor' weapons in the war-torn jungles of Viet Nam, Stark accidentally trips a booby-trap wire and is wounded in the chest, a piece of shrapnel slowly working its way towards his heart. Captured by the enemy, he is temporarily patched up to create an 'invincible' body armour that doubles as a life-saving pacemaker. Escaping his captors, he installs a high-tech "Iron Man" as the head of security for Stark Enterprises and keeps his 'invincible' alter-ego and debilitating condition a secret from the rest of the world.
DREAMWORKS GETS A GRIP ON MARVEL'S "HANDS OF SHANG-CHI"

Marvel's "Master Of Kung Fu" comic book series is being developed as a feature for DreamWorks as "THE HANDS OF SHANG-CHI".

Screenwriter Bruce "Band of Brothers" McKenna will develop a script for director Woo-ping Yuen, fight choreographer for "Matrix" and "Crouching Tiger, Hidden Dragon".

"A young kung fu master learns his father is the worst criminal in the world ...", said McKenna. "There's this contemporary world of Chinese billionaire industrialists, but it's a bit like the Wild West ..."



'DOOLITTLE' DIRECTOR LENDS A HAND TO MARVEL'S "IRON FIST"

Director Steve "Dr Doolittle" Carr will helm Artisan's big screen adaptation of Marvel Comics "IRON FIST".

Marvel Studios Avi Arad confirms Artisan will begin production on "IRON FIST" following producer Gale Anne "Hulk" Hurd's "The Punisher".

Artisan has targeted "IRON FIST" for a 2004 release.

"IRON FIST" is one of numerous Marvel comic adaptations being developed by Artisan for the big screen, including "The Punisher" (starring Thomas Jane), "Captain America" (Brad Pitt rumoured to be interested), Wesley Snipes as the "Black Panther", "Power Pack", "Longshot", "Deadpool", "Man-Thing", "Morbius the Living Vampire" and "Ant-Man".

Marvel Comics "IRON FIST" debuted May 1974 in 'Marvel Premiere #15'. The character was also teamed with 'Luke Cage' ('Power Man') in the series 'Power Man and Iron Fist.'

Premise of the original story begins with 'Wendell Rand', an explorer who discovers a Shangrila-type lost kingdom (K'un Lun) in the Himalayas. After saving the leader of K'un Lun from 'Shou Lao the Undying', Rand is named heir to K'un Lun's throne.

Taking a K'un Lun wife, Wendell has a son named Daniel, who earns the name 'Iron Fist' after he encounters and fights an older Shou Lao.

To symbolize his victory, Daniel tattoos his chest with a winged dragon. Plunging his hands into the dragon's heart, Daniel acquires the magical 'chi' energy of the 'Iron Fist', gaining super-human strength and unlimited martial arts powers.

"DEATHLOK" DUO SPARKS TO "ELEKTRA"

"DEATHLOK" screenwriters Stu Zicherman and Raven Metzners will script "Daredevil" movie spin-off "ELEKTRA". The New Regency/Fox feature, set for a 2004 release, will be produced by Horshoe Bay's Mark Steven Johnson, Gary Foster and Marvel's Avi Arad.

Jennifer 'Alias' Garner will reprise her starring role.

Based on Frank 'Robocop 2' Miller's comic series 'The Elektra Saga', "ELEKTRA" the movie will feature the 'curvaceous assassin' recover from a near-death experience and with the mentoring of a martial arts master named 'Stick', battle the hordes of 'The Hand' organization.

"WEREWOLF BY NIGHT" LEAPING TO THE BIG SCREEN

Oscar-nominated screenwriter Robert Nelson Jacobs ("Shipping News") will script Marvel's big screen "WEREWOLF BY NIGHT" for Dimension.

Marvel Studios and Crystal Sky co-produce.

Premise of "WEREWOLF" revolves around a man that deals with a tragic, lycanthropic curse that transforms him into a deadly wolf-like creature.

"It is our aim to bring the werewolf genre to mainstream audiences in the same character-driven way we have done with our other superhero films," said Marvel Studios' Avi Arad, who will executive produce "WEREWOLF".

"'WEREWOLF BY NIGHT' is at its core a beautiful love story reminiscent of the great Shakespearean tragedies. It needs the meticulous heartfelt crafting that Robert Nelson Jacobs is known for ..."

UNIVERSAL MAKING WAVES WITH "NAMOR : THE SUB-MARINER"

Screenwriter David Self continues to develop "NAMOR : THE SUB-MARINER" for Marvel Studios Avi Arad and Kevin Misher's Misher Films. Universal Pictures plans to follow up their comic book feature "HULK" with the adventures of Marvel's Atlantean.

Created by Bill Everett in 1939, 'Prince Namor the Sub-Mariner' is Marvel's first super hero character. He carried his own successful comic book series for 42 issues, as well as numerous guest star appearances in other comics throughout the 1940's. Namor was re-introduced to a new generation in the 1960's appearing in Marvel's "Fantastic Four" #4, Marvel's "Tales To Astonish" (approx. 30 issues), his own title (approx. 70 issues) and again (approx. 50 more issues) in another follow-up series.

Namor is a mutant hybrid of Homo Sapiens and 'Homo Mermanus'. He is the son of 'Leonard McKenzie', Captain of a U.S. Ice Breaker and 'Princess Fen' of the 'Royal House of Atlantis'. 'Namor McKenzie' (also known as "Sub-Mariner") is endowed with super strength and endurance, telepathic power over sea creatures, the ability to breathe both in and out of water and the power of flight, via small wings on his ankles.

He fought with the Allies in both the Atlantic and Pacific during World War II, has been 'King of Atlantis' and CEO of 'Oracle Inc.', also exiled from his homeland as a traitor and criminal.

His relatives included 'Dorma' (wife, deceased), 'Marrina' (wife, deceased), 'Namora' (cousin, deceased) and 'Namorita' (second cousin, deceased).

The soul-searching Namor, torn between his two peoples, will either work to help the human race, or rebel against it if betrayed.