WRITER LEN WEIN CONTINUES ADAPTING DC'S "SWAMP THING" FOR PRODUCER JOEL SILVER'S SILVER PRODUCTIONS ...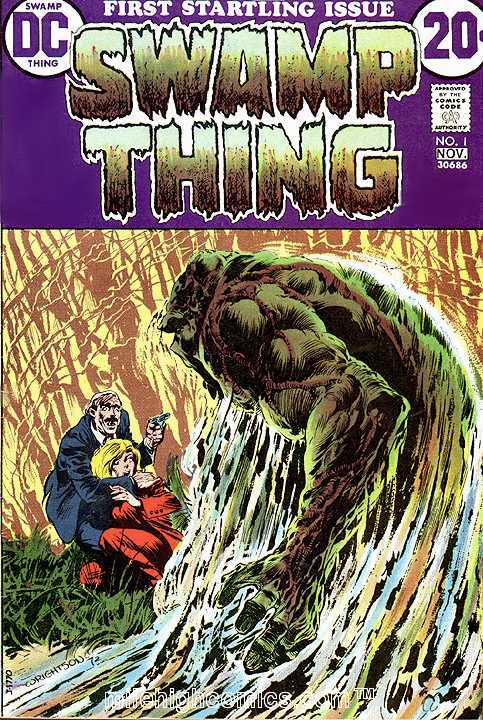 "SWAMP THING" first appeared in the June 1971 issue of DC Comics "House of Secrets" #92. In 1972, writer Len Wein and artist Berni Wrightson followed up with a DC "Swamp Thing" 24-issue series. DC revived the character again in 1982 with "Saga Of The Swamp Thing" with a new creative team headed by editor Wein, Alan Moore, Steve Bissette and John Tottleben.

Premise of the first series centered on scientist 'Dr. Alec Holland' and wife Linda, working for the government in Houma, Louisiana, on a 'bio-restorative' formula designed to promote crop growth. Following a lab fire deliberately set by a group of killers working for rival scientist 'Dr. Arcane', Linda perished and Holland became disfigured, covered with his own formula, and ultimately transformed into a man-like plant monster.

In the 1982 comic book series, the original story was re-invented, with Dr. Holland killed in the lab accident, dead before he fell into the swamp water, his corpse ingested by plant-life, becoming Holland's body in plant form. Holland was no longer a man turned into a plant, but a plant turned into Holland (?!).

Producer Michael "Batman" Uslan previously brought a kitsch "SWAMP THING" to the big screen, with a number of short-lived TV series following.

In this latest feature film go-round, producer Joel Silver of "Lethal Weapon" fame has hired original writer Len Wein to script a new "SWAMP THING", dedicated to the macabre look and tone of the classic Berni Wrightson issues ...