Find hard to find items on eBay!
BULLWINKLE SETTING THE WAYBACK MACHINE FOR CGI "MR. PEABODY & SHERMAN"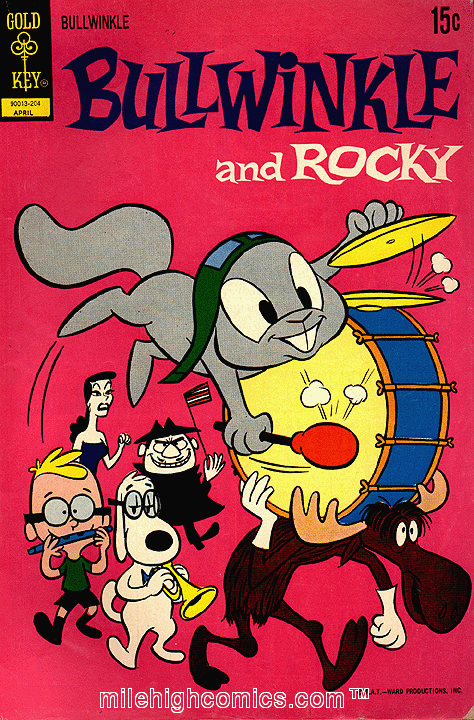 Sony-based Sprocketdyne Entertainment and Bullwinkle Studios will develop/produce live-action/CGI feature "Mr. Peabody & Sherman", based on the cartoon characters first appearing in Jay Ward's 1959 classic animated TV series "Rocky and His Friends."

Premise of "Peabody" features a super-intelligent dog and his human 'pet' Sherman, travelling through time in Peabody's 'Wayback Machine', setting history on course through programmed encounters with famous historical figures.

Bullwinkle Studios is a venture between family entertainment company Classic Media and Jay Ward Prods. Sprocketdyne's Rob Minkoff/Jason Clark will produce with Jay Ward's daughter Tiffany Ward.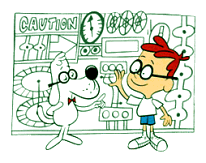 PARAMOUNT AND VALHALLA AIM FOR LIVE-ACTION "AEON FLUX"
Geoff Stier has joined Gale Anne "Hulk" Hurd's Valhalla Motion Pictures, to oversee development/production of the company's slate of film/television projects, including Paramount's developing live-action feature "Aeon Flux".

Created by Peter Chung and Howard E. Baker, the ruthless heroine "AEON FLUX" debuted as an animated series June 1991 as part of MTV's 'Liquid Television' format.
CHANGES IN STORE FOR HASBRO'S "THE TRANSFORMERS"
Hasbro's toy line "THE TRANSFORMERS" is being developed as a live-action feature by Don "LXG" Murphy of Angry Films and writer/producer Tom "X2" DeSanto.

Based on popular Japanese toys and licensed to North America in 1984, premise of "The Transformers" focuses on a group of robots that are able to 'transform' into high-tech weaponized machinery. The screenplay itself will center on an intergalactic war between two races of robots: the heroic 'Autobots' and the evil 'Decepticons'.

"We loved the creative take that Tom and Don presented to us," said Jane Ritson-Parsons, president of Hasbro Properties Group. "And for Hasbro, the center of our corporate strategy is extending our core brands in a variety of entertainment forms.

"This is a franchise where the next story arc and the next destination is on the big screen ..."
CATCHING A BUZZ WITH "THE GREEN HORNET"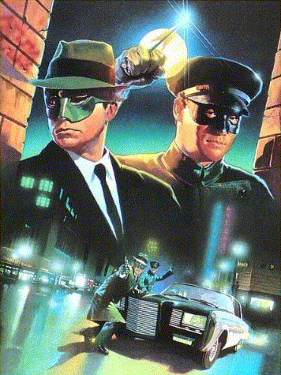 Miramax are interested in developing a big screen version of masked vigilante "THE GREEN HORNET".

Originating on radio in 1936, over a thousand "GREEN HORNET" episodes were produced until the early 1950's, featuring actor Al Hodge, later to star as 1950's TV star "Captain Video".

Premise of the "GREEN HORNET" revolved around criminal mastermind 'The Green Hornet', the alternate identity of 'Britt Reid', wealthy owner of 'The Daily Sentinel' newspaper, who cruised the nights in a weaponized 'Black Beauty' limo with his partner 'Kato' at the wheel, targeting crooked politicians and racketeers.

To date, the stories have been adapted to comic books and a popular 1960's television series starring Bruce Lee.

"BROTHERHOOD OF THE WOLF" PRODUCER EXPLORING HOWARD'S "SOLOMON KANE"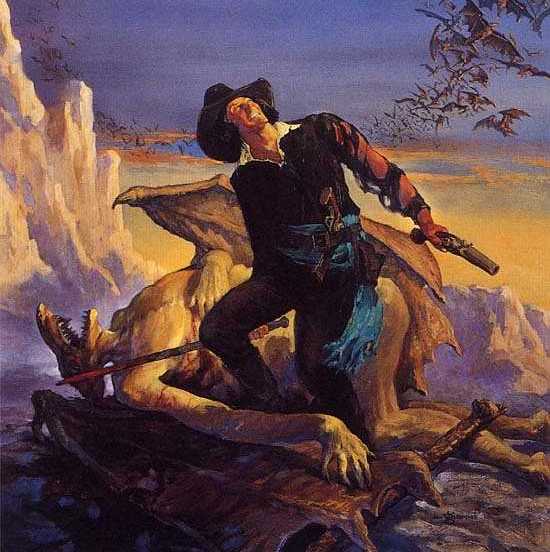 Producer/distributor Samuel Hadida of Davis Films and Berrow/Anciano's UK-based Wandering Star are developing Robert E. "Conan" Howard's pulp hero "SOLOMON KANE" for a big screen $55 million feature.

Producer Christophe "Brotherhood of the Wolf" Gans is also on board, shopping for an A-list director/star to put the picture into production for 2004.

Wandering Star's Paul and Michael Berrow are former managers of rock band 'Duran Duran'. Wandering Star also holds rights to author Robert E Howard's catalog of 1920's-1930's pulp fiction.

Set in North America during the early 1500's, the screenplay for "SOLOMON KANE" is being penned by David Jung and Steve Dandois.

Premise of "Solomon Kane", debuting in 1928, featured the swashbuckling hero blazing a trail through primordial jungles and lost cities, pitting his strength and puritan 'righteousness' against vampire queens, savage pirates, and ancient horrors.

NEW LINE IS FIRST WITH VERTIGO'S "Y-THE LAST MAN"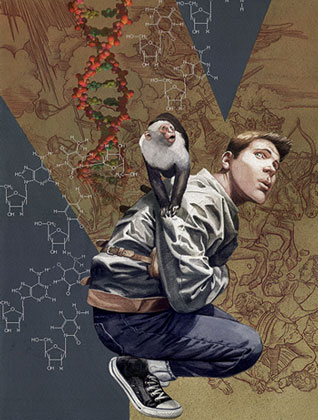 Vertigo's 'Comics For Mature Readers' title "Y-THE LAST MAN", has been optioned by Time-Warner sister company New Line Cinema for development as a feature film.

Premise of the story begins in the summer of 2002, when a plague of unknown origin destroys every sperm, fetus, and fully developed mammal with a 'Y' chromosome - with the exception of amateur escape artist 'Yorick Brown' and his male monkey companion 'Ampersand'.

The male 'gendercide' annihilates 48% of the global population, or approximately 2.9 billion men.

Mindful of his unique status in the new world order, Yorick undertakes a continent spanning quest to find his missing exchange student girlfriend, trapped somewhere in Australia. Along the way he meets a variety of women, each with their own agenda, including a combat soldier, a congresswoman, and one of the planet's premier bio-engineers.

Introduced July 2002 in a super-sized 40 page issue, the comic book series was created by writer Brian K. "Swamp Thing" Vaughan, artist Pia Guerra, inker Josť Marzan, Jr. and cover artist J.G. "Wonder Woman" Jones.

'DIE HARD' SCRIBE CONJURING UP "THE PHANTOM"
Steven "Die Hard" de Souza has completed his first draft of "THE PHANTOM" for Crusader and Hyde Park Entertainment.

Based on creator Lee "Mandrake The Magician" Falk's 1936 newspaper comic strip, "THE PHANTOM", aka 'The Ghost Who Walks' is considered the first costumed super-hero to ever appear in print.

Premise of the story begins with 'Christopher Standish', a former cabin boy for explorer Christopher Columbus, who in later years, becomes the captain of his own commercial vessel. His ship comes under attack by pirates and his only son 'Kit', the sole survivor, washes up on a 'distant African shore', befriended by the 'Bandar' tribe of pygmies.

Swearing to fight piracy and injustice, Kit fashions a costume and becomes a feared figure, riding a white stallion with a companion wolf running alongside, and leaving the mark of a skull imprint that he wears as a ring.

"THE PHANTOM" that appears in the current comic strip is Kit's 21st descendant.

The first 'Phantom' comic book was printed in Italy during the 1940's. Other 'Phantom' comic books were published in Brazil, England, France, Germany, Greece, India, Russia, Spain, Thailand and Turkey.

In North America, the first 'Phantom' comic books were reprints from newspaper strips, published in Ace, King and Harvey comics, with newer original stories published by Charlton, D.C. and Marvel.
WARNERS TIES UP "SMALLVILLE" WRITER FOR BIG SCREEN "WONDER WOMAN"

Although she's been an iconic pop character for almost 60 years and the undisputed star of numerous cartoons and a TV series, DC Comics "WONDER WOMAN" has never appeared in a major motion picture.

Now all that's about to change as Warner Bros have hired screenwriter Philip "Smallville" Levens to adapt a big screen version of the 'Amazon Princess' for producers Joel "Matrix" Silver and Leonard Goldberg.

The project is being overseen by Warners production VPs Courtney Valenti/Dan Lin and Susan Levin for Silver Pictures.

"Wonder Woman" was created in the 1940's by Harvard-trained psychologist Dr. William Moulton Marston, writing under the byline 'Charles Moulton'.

Among Marston's many radical world views was that civilization would revert into a 'matriarchy' and that females would use powers of 'sexual enslavement' to achieve an absolute dominance over men.

These theories landed Marston the position of 'consulting psychologist' to womens' magazine 'Family Circle'. In an interview published in the October 25, 1940 issue, Marston discussed the positive aspects of the booming war-time comic book industry and his comments were well received by publisher M. C. Gaines of "All American Comics", sister company of DC Comics. This led to Marston's appointment to the Editorial Advisory Board of both companies.

Marston submitted his first script "Suprema, the Wonder Woman" to DC Comics with illustrations by artist Harry Peter (!)

In 1942, the 'Suprema' name was dropped, and "Wonder Woman" debuted in "All Star Comics 8" (December 1941-January 1942), the lead story/cover for "Sensation Comics 1" (January 1942) and her own title "Wonder Woman 1".

Marston continued to highlight his female 'dominance' themes throughout 'Wonder Woman' with numerous stories featuring fem characters in bondage.

It was also during this time that Marston's 'research' assistant "Dotsie" Richard moved in with Marston and his wife Elizabeth.

Marston fathered two children by each woman, with Olive bearing a physical resemblance to 'Diana Prince' including wearing heavy silver bracelets on her wrists.