Screenwriter Linda "Beauty and the Beast" Woolverton continues developing her script for "FATHOM", per James Cameron's Lightstorm Entertainment and 20th Century Fox.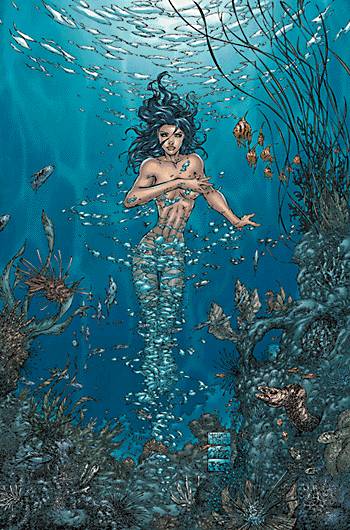 Based on Michael Turner's Top Cow comic book, "FATHOM" centers on 'Aspen Matthews', a beautiful woman with a mysterious past. ie. she is descended from a race of humanoids 'from the deep', with a powerful ability to 'manipulate' water around her.

As a confused and frightened child, Aspen arrived on the 10-years lost 'ghost ship' 'Paradise', with no memories of her identity, or where she came from. She is subsequently adopted and named by the naval officer onboard, 'Captain Matthews'.

With her peculiar ties to the water, the teenage Aspen eventually becomes an Olympic swimmer, but is disqualified for "doping" after her blood is tested and determined to contain unusually high levels of oxygen. Undeterred, she becomes a marine biologist and gets involved in high-tech research at an underwater lab, the 'DMD'.

Aspen finally learns she is the royal daughter of an undersea race of humanoids. She and her brother went missing after an attempted kidnapping by 'Killian'. Despite the information, Aspen still has no recollection of her past.

Her subsequent journey of self-discovery, presents her with numerous life and death challenges, both underwater and on dry land.
ASPEN SPEAKS :

"... I ... am fascinated by what lies beyond "normal" boundaries ... what's beneath the surface, the mysterious depths, the world below ... basically if I'm not in it, on it, or under it, I'm looking at it through a microscope. I guess I've just got water on the brain ... When I was invited here, I expected to make some difficult adjustments ... I feel... emotional currents ... I was selected to join the science team at the 'Deep Marine Discovery' ... quite an honor for a young biologist like me ... only to get there in time for the DMD to be blown up by a torpedo ... my life before today was like Dorothy's before she woke up in Oz. My conception of what's possible ... of what's real--has expanded a thousandfold ... My whole life, the ocean really has been talking to me, and only now am I finally learning to listen ... "