CLICK ON THE POSTERS TO VIEW THE TRAILERS !

PRINCIPAL PHOTOGRAPHY BEGINS ON SCREEN GEMS' "YOU GOT SERVED", STARRING B2K

(Los Angeles, CA, May 28)

Principal photography has begun on Screen Gems'

YOU GOT SERVED,

starring B2K (Omarion, Raz B, J Boog and Lil Fizz) and Marques Houston (IMX). Written and directed by Christopher B. Stokes (

House Party 4

),

YOU GOT SERVED

is being produced by Marcus Morton (

3 Strikes

) and Cassius Vernon Weathersby. Executive producing is Ketrina "Taz" Askew and co-producing is Bill Pollina.

YOU GOT SERVED

follows the competitive world of street dancing where crews battle each other for money and respect. Elgin (Marques Houston of IMX) and David (Omarion of B2K) are best friends and leaders of the best dance crew in the area. When another town's top group challenges them to a battle, David and Elgin along with their buddies (Raz B, J Boog and Lil' Fizz of B2K) must create and perfect the most cutting edge moves in order to remain on top. The stakes are raised as friends double-cross each other and true motives are revealed. When the biggest battle comes to town, David and Elgin must work past their differences to prove that they are still the best crew on the streets. Jennifer Freeman, Meagan Good and Steve Harvey co-star.

B2K arrived on the music scene two years ago with the release of their self-titled debut album, followed by their current chart-topping album,

pandemonium!

, which features the hit single,

"Girlfriend."

Known for their dazzling dance moves, Omarion, Raz B, J Boog and Lil' Fizz have quickly become teen idols. Now, after two platinum albums, a Christmas album, and a remix CD, they are turning their attention to the movie scene. With their love of performing on and off screen,

YOU GOT SERVED

is sure to stir up

more pandemonium for B2K and their fans.

The soundtrack will feature brand new recordings by B2K and other artists and be released by Epic/Sony Music Soundtrax.

YOU GOT SERVED

is scheduled to be released in early 2004.

Screen Gems

was established as a new marketing label under Sony Pictures Entertainment in December 1998. Notable releases include Guy Ritchie's "Snatch," "The Brothers," "Resident Evil," "Two Can Play That Game" and "The Mothman Prophecies," starring Richard Gere and Laura Linney. Upcoming releases include Jane Campion's "In the Cut," starring Meg Ryan, Mark Ruffalo and Jennifer Jason Leigh; "Underworld," starring Kate Beckinsale and Scott Speedman; and "The Breakup Handbook," starring Jamie Foxx, Morris Chestnut and Gabrielle Union.

Sony Pictures Entertainment

(SPE) is a division of Sony Corporation of America (SCA), a subsidiary of Tokyo-based Sony Corporation. SPE's global operations encompass motion picture production and distribution; television production and distribution; digital content creation and distribution; worldwide channel investments; home entertainment acquisition and distribution; operation of studio facilities; development of new entertainment products, services and technologies; and distribution of filmed entertainment in 67 countries. Sony Pictures Entertainment can be found on the World Wide Web at

http://www.sonypictures.com

.
NEW AND UPCOMING :

BASIC
ANGER MANAGEMENT
IDENTITY
DADDY DAYCARE
HOLLYWOOD HOMICIDE
CHARLIE'S ANGELS : FULL THROTTLE
BAD BOYS II
TOUGH LOVE
SWAT
ONCE UPON A TIME IN MEXICO
UNDERWORLD
THE MEDALLION
IN THE CUT
RADIO
NANCY MEYERS PROJECT
MONA LISA SMILE
BIG FISH
13 GOING ON 30
BREAKUP HANDBOOK
50 FIRST KISSES
SECRET WINDOW
SPIDER-MAN 2
SONY GEARS UP FOR "ASTRO BOY"

The TV cartoon remake of 1960's anime character "ASTRO BOY" debuted on the Japanese Fuji TV network April 6, 2003, a date chosen to coincide with the robot character's 'birthday'.

First appearing as a comic strip in 1951, "Tetsuwan Atom" was produced as a TV cartoon by Osamu Tezuka's Mushi Productions, airing from 1963-66, with Nippon TV re-broadcasting their own colorized episodes from 1980-81.

In North America NBC re-broadcast 104 episodes of the series re-titling it "ASTRO BOY".

"ASTRO BOY" is a powerful flying robot, created by 'Doctor Boyton', who fashioned the android to resemble his son 'Toby'. Toby the robot inadvertently signs himself over to a 'robot circus' where he meets 'Kathy' (who gives him the name "ASTRO BOY"). Shipped back to Japan by 'Doctor Elefan' of the 'Ministry of Science', Astro receives robot parents, sister 'Uran' and dog 'Jump.'

Sony Pictures continues developing their "ASTRO BOY" CGI feature, slated for a 2004 release.

DREW WANTS TO DO "BARBARELLA"

Drew Barrymore and Nancy Juvonen of Flower Films continue developing "BARBARELLA" for Sony Pictures Entertainment, with Barrymore inked in as the sexy lead.

Jean-Claude Forest created the comic "Barbarella" in 1962 for the French "V-Magazine". The strip was an immediate hit and soon translated into a dozen languages.

In 1968 "BARBARELLA" was adapted into a major motion picture with creator Forest acting as design consultant.

Producer Barrymore's version will continue to move through development from a screenplay by John "Charlie's Angels" August. August said the story-line will not be a remake of the Vadim film, but a new take based on other Forest "Barabarella" comics books in the series.

"It's got to have some depth," said Drew.

IN PRODUCTION : "SPIDER-MAN 2"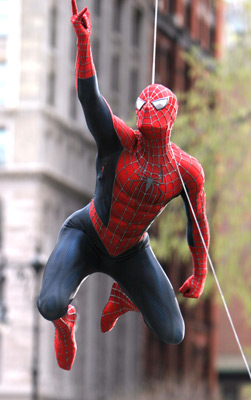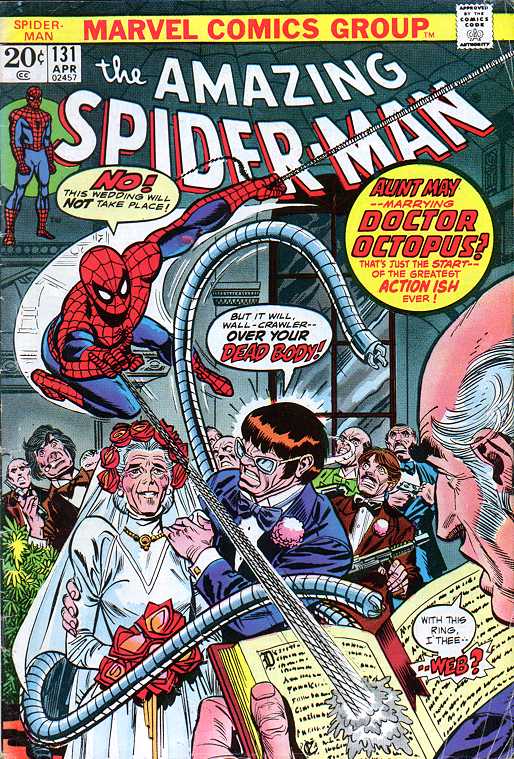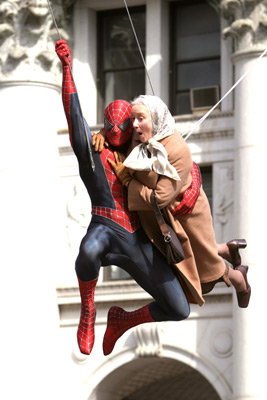 REVOLUTION PREPARES FOR THE RELEASE OF "HELLBOY"
Revolution Studios' supernatural action adventure film "Hellboy," written and directed by Guillermo "Blade 2" Del Toro and based on the popular Dark Horse Comics series of the same name, will be released across North America on the Memorial Day weekend 2004, it was jointly announced by Revolution Studios Partner Tom Sherak and Jeff Blake, Vice Chairman of Sony Pictures Entertainment.

The film stars Ron "Beauty and the Beast" Perlman, Selma "Legally Blonde" Blair, John "Alien" Hurt and Jeffrey "The Larry Sanders Show" Tambor.

"We are confident that with Guillermo Del Toro at the helm, 'Hellboy' will deliver the fantastic action, special effects and excitement that summer moviegoers have come to expect," said Revolution Studios Partner Tom Sherak.

"The swell in business over Memorial Day weekend is an excellent spot to place an event-style project like 'Hellboy,'" said Jeff Blake, Vice Chairman of Sony Pictures Entertainment, "especially given the current playability of comic book-based films. 'Hellboy' not only has a loyal core following but is joined by a growing general audience making this date the perfect choice."

"Hellboy" is being produced for Revolution Studios by Lawrence Gordon, Dark Horse Comics' Mike Richardson and Lloyd Levin. Patrick Palmer is serving as executive producer and Dark Horse Comic's Mike Mignola is serving as associate producer. In addition, six-time Academy AwardŽ-winner Rick Baker ("How the Grinch Stole Christmas," "Men in Black," "The Nutty Professor," "Ed Wood," "Harry and the Hendersons," "An American Werewolf in London") is creating the special makeup effects for the film.

Born in the flames of hell and brought to Earth for the purposes of evil, Hellboy (Perlman) was rescued from sinister forces by the benevolent Dr. Broom (Hurt), who raised him to be a hero. At Broom's Bureau of Paranormal Research and Development, Hellboy forms an unlikely family with the telepathic "Mer-Man" Abe Sapien (Doug Jones) and Liz Sherman (Blair), the woman he loves who can control fire.